Tournament place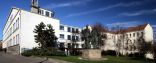 Česky
GWC 2017 will be situated in the beautiful grounds of old Hradčany, just few steps from the Prague Castle. All tournaments will be organized in the premises of Gymnázium Jana Keplera. Table tennis is matter of course!
Address of the tournament place:
Gymnázium Jana Keplera
Parléřova 2/118
169 00 Praha 6 – Hradčany
Public transport is the cheapest and simplest way how to move around Prague (see Fares in Prague).
For most journeys you can use ticket for 24 CZK, for longer journeys (e.g. to Airport) use ticket for 32 CZK. You can also buy 1day or 3days ticket.
The tournament place is right in front of Pohořelec Tram station line 22 connecting you easily to all lines of metro (A green line - Malostranská station, B yellow line - Národní třída station, C red line - I.P. Pavlova station).
If you arrived by train, just go with red line from the Central station Hlavní nádraží to I.P. Pavlova and then change to Tram 22 to Pohořelec.
If you arrived by plane, go with bus 119 to Nádraží Veleslavín, change to green line metro to Malostranská and then continue with Tram 22 to Pohořelec.
Or you can let us know in advance and we catch you :)